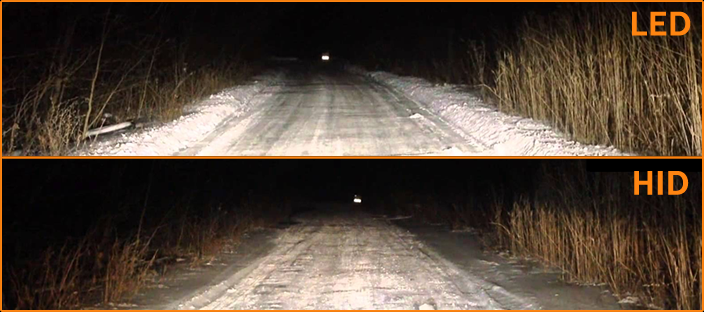 LED vs HID Headlights
In this post we will discuss the different type of headlights. Currently there are three main technologies in the automotive headlight world. All 3 options have their pros and cons, hopefully you will be able to determine which one of the 3 options best fits your needs. 
1) LED Headlights
2) Halogen Headlights
3) HID Headlights
halogen bulbs have been the norm since the car was invented, over the least two decades they have been slowly replaced by HID bulbs, and more recently LED bulbs.
In recent years, HIDs and halogens have been favored among manufacturers (in comparison to LEDs). But with current improvements in LED technology, LED headlights are becoming the new standard for headlights.
Xenon HID headlights, or high-intensity discharge, are a common alternative to halogen bulbs. Instead of halogen, HID headlights use another gas - generally xenon. Passing xenon over an electrical charge allows these bulbs to burn much more brightly than the glowing filament design bulbs, which leads to efficiency savings and improvements in aesthetic and visibility.
These headlights are usually brighter than LEDs and halogens, but they are significantly more fragile, and they are not solid state in the same way as LEDs. This means that HIDs will need to be replaced much more frequently than LEDs, and in some cases can even burn out before a standard halogen headlight would.
HID headlights are a significant improvement on halogens, and depending on the color temperature, you can choose a light quality that suits your preferences. However, over time, these bulbs can start to burn at lower or higher temperatures, changing the quality of the light they emit, before burning out. HIDs will do a job, but they are problematic over time, and in many respects LEDs represent a more sensible choice for both short and long-term use.
LED Advantages Over HIDs
LED headlights win the comparison against HIDs narrowly for a few reasons:
Longevity:

 

LED headlights have unmatched longevity compared with HID and especially halogen headlights.
Light Output:

 

LED and HID headlights both have excellent light output, but LEDs illuminate instantly, while HIDs take a few seconds to achieve full brightness and proper color.
LED stands for light-emitting diode. Unlike halogen bulbs, LEDs don't have a filament that current is passed through. Instead an LED transfers current through a semi-conductor. This movement of electrons generates light
One advantage of this form of light generation is that by adjusting the material properties of the semi-conductor, one can adjust the frequency of the emitted light, thus changing its color.
LEDs have been in use for decades. You'll see them in your cellphone and laptop, even ones that are 20 years old. Their small nature, and low power consumption make them perfect for such applications. Additionally, in low current applications, they also generate minimal heat.
The process of upgrading your headlights doesn't have to be difficult. With all the benefits of LED headlights available at low cost, and easy installation for even non-technical motorists, an LED kit is an essential investment in the long-term future of your motoring.
Not only will you benefit from better road lighting conditions and increased visibility in all weathers and conditions, but you will also save on fuel and ongoing maintenance costs by upgrading.
Our LED headlight kits are manufactured to precise standards, and guaranteed for the long-term. For more efficiency headlighting, and significantly lower operational costs, there is no better option than LED headlights.